A Better Class of Oil for over 90 years
Les Mecoles: 1926 - 1979


From small beginnings in 1926, Les Mecoles, 16 years old, founded Penrite Oil Company from his parents' home in St.Kilda, Melbourne, Australia. The first batches of oil were made on his mother's kitchen stove and delivered to service stations, milling factories and the local shipping port using his father's wheelbarrow.

Oils were manufactured from the highest quality lubricants from Pennsylvania (PEN) base stocks, regarded at the time as the best in the world. Only the right oils (RITE) would ever be sold to local customers, hence PENRITE, with its unique name gained trust and respect amongst many. As the business began to grow, a new blending facility was built in Richmond.

After several years, Penrite again moved to Abbotsford. Penrite was experiencing further growth as Melbourne and regional Victoria grew in population and the road and railway network expanded across Australia. New automotive products were introduced including batteries and oil filters..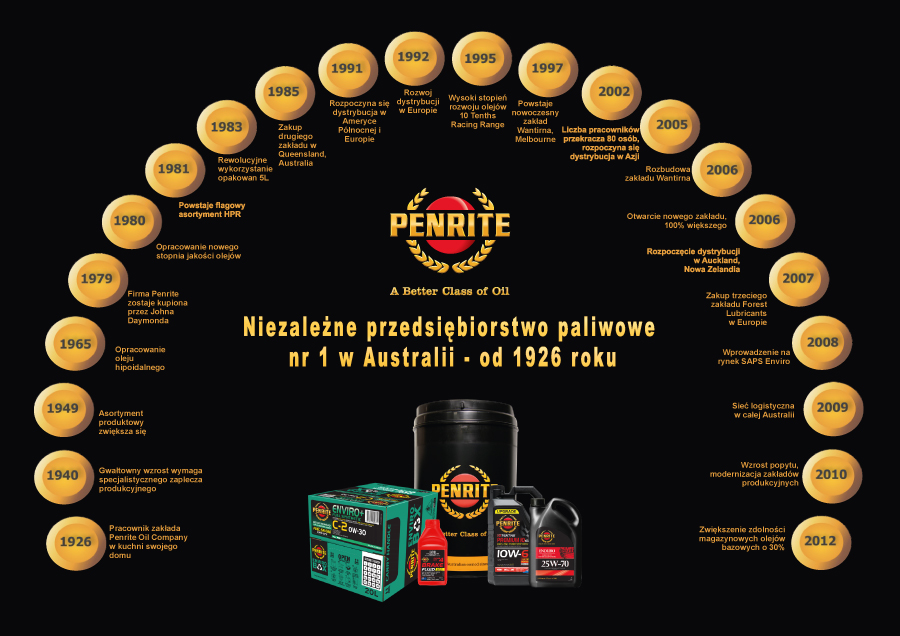 In 1965, Penrite again was forced to move to nearby East Brunswick as the Abbotsford site was purchased by the Victorian Government to make way for the newly commissioned Eastern Freeway. The business continued to grow, but in 1979, Les Mecoles, suffering from poor health, sold the company to John and Margaret Dymond.
John served a 7 year apprenticeship at Vauxhall Motors, Luton, (starting work), at the age of 16 years. He obtained a Mechanical Engineering Degree at night school. Whilst at Vauxhall he became a draughtsman, specialising in the design of gearboxes. Moving to Melbourne in March 1958, he took up a position with BP Australia, in the Technical Department.
During this time he assisted in the development of lubricants for the harsh climates of Malaysia, Papua New Guinea and Northern Australia. In 1968, a vacancy occurred at Lubrizol Australia, an American international additive producer. John took this opportunity to become involved in the additive industry which was becoming an important part of lubricant production.
John's 20 years experience in, not only the oil industry, but also the additive market gave him the background and knowledge he needed to take up the challenge of his own company, PENRITE OIL.
John Dymond (aka "JD"): 1931-2006


The Growth of the Brand
Packaging & Blending Plant
In 1981, Penrite launched a new range of premium multigrade engine oils known as HPR (High Performance Range), identified to solve automotive oil consumption problems and tailored for the local, harsh Australian driving conditions. Other products introduced included 10 Tenths racing oils for classic and modern cars, motorcycles plus heavy duty engine oils, gear oils and transmission fluids.
Penrite continued to grow and expand, opening up new distribution channels and market segments. A second blending facility was opened in Brisbane, soon followed by new warehousing in Perth, Adelaide, Hobart, Sydney and Darwin. Exports commenced in New Zealand, Southeast Asia, America, UK and Europe. New smaller pack sizes for the DIY (Do-It-Yourself) market were introduced complementing the traditional DIFM (Do-It-For-Me) market of the 44 gallon drum.

In 1997, the existing blending facility in Melbourne could no longer keep up with the demand and was relocated to Wantirna South in Melbourne's east and soon after, the Brisbane site was also relocated to a larger premises in Crestmead. Further product ranges were introduced including Everyday and Enviro+, driven by the goal to develop the right product for every application.

Today, Penrite continues to be 100% Australian owned and managed by Toby and Nigel Dymond from Melbourne, continuing on the core values and philosophy of the business.