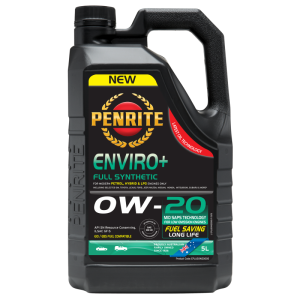 Penrite Enviro + 0W-20
ENVIRO+ 0W-20 is a premium, full synthetic, SAE 0W-20 engine oil. It uses the latest advances in mid SAPS (Sulphated Ash, Phosphorus and Sulphur)* additive technology and features low volatility synthetic base oil that minimises oil loss as well as an enhanced corrosion protection package for ensuring compatibility with ethanol based fuels such as E85.
Licensed by the API (American Petroleum Institute) to meet SN Resource Conserving and ILSAC GF-5 specifications ensuring quality and satisfaction.
| | |
| --- | --- |
| Viscosity | 0W-20 |
| Base oil | Full Synthetic |
| Fuel types | Petrol / Diesel, LPG, Hybrid |
| Benefits | premium, full synthetic, SAE 0W-20 engine oil |
application 
ENVIRO+ 0W-20 is designed for use in modern 4, 6 & 8+ cylinder multi-cam, multi-valve (including VVT), naturally aspirated, supercharged & turbocharged petrol, low emission engines including petrol/electric hybrids.
Enviro+ 0W-20 may be used where SAE 0W-20 and SAE 5W-30 grade oils are recommended by the manufacturer. It can be used where ILSAC GF-3, GF-4 & GF-5 fuel economy oils are recommended and where API SN or earlier API specifications SM (2004-2010), SL (2001-2004) were recommended and where the earlier ILSAC GF-3 or GF-4 specifications were required.
ENVIRO+ 0W-20 is suitable for use in a wide range of vehicles that require a fuel efficient API SM or SN, ILSAC GF-4 or GF-5 Resource Conserving Engine oil. It can be used where fuel economy oils are specified such as Toyota 86 GT, Subaru BRZ, Jeep KL Cherokee 2.4 Litre, Mazda CX-5 and Nissan Altima models. It can also be used in Ford vehicles that specify M2C945-A and M2C947-A and in Chrysler vehicles specifying MS-6395 0W-20 engine oil.
It can be used in vehicles manufactured by - Chrysler, Ford, GM, Honda, Jaguar, Lexus, Mazda, Mitsubishi, Nissan, Subaru, Suzuki, Toyota.

VEHICLE AND FUEL TYPES


ENVIRO+ 0W-20 is suitable for use in passenger cars, 4WD's & light commercial vehicles and can be used with Petrol, LPG (Dual Fuel & LPi Liquid Phase Injection), E10 as well as being a primary recommendation for everyday use with E85 fuel. It is designed for everyday use with flexi-fuel vehicles that can run on both unleaded petrol and E85 ethanol blend fuels. It is also suitable for late model vehicles with dedicated LPG systems including those with direct injection LPI. It is also suitable for use in Hybrid petrol/electric vehicles requiring this viscosity grade and specification. It is NOT recommended for use in diesel engined vehicles or in motorcycles with wet clutches.

benefits
API LICENSED for quality and assurance
MAXIMUM wear protection,
MINIMUM sludge formation
REDUCED piston deposits.
LONG Engine oil drain intervals
MAXIMISES fuel economy**
MAXIMUM engine life***
CATALYST and Oxygen sensor friendly
ETHANOL fuel compatible – Safe with E85
Suitable for Hybrid petrol/electric vehicles
Excellent resistance to viscosity and thermal breakdown even in extreme service
Superior cold engine start up performance, minimising friction and wear at start-up
*Low and mid SAPS oils may sometimes be referred to as "Low Ash" oils
**Combined fuel economy improvement of >2% compared to reference oil in the sequence VID test
*** Demonstrated in Sequence IV test result of 17% of maximum allowable wear
Zelety produktu
spełnia najnowsze normy API SN dotyczące ochrony przed zużyciem komponentów silnika oraz utrzymania czystości silnika
może być stosowany w wydłużonych interwałach wymiany oleju
wspiera ekonomikę spalania paliwa; >2%  VID test
wydłuża żywotność silnika
kompatybilny z etanolem
może być stosowany w pojazdach z napędem hybrydowym
odporny na zmiany lepkości w wysokich temperaturach
zapewnia ochronę silnika podczas "zimnego rozruchu" dzięki czemu zapobiega uszkodzeniu powierzchni jego komponentów


MANUFACTURER'S (OEM) APPROVALS & INDUSTRY LICENSES
INDUSTRY & MANUFACTURER'S PERFORMANCE LEVELS
API SN
API SN Resource Conserving
Chrysler MS-6395
Ford M2C945-A
Ford M2C947-A
GMW 16182
ILSAC GF-3
ILSAC GF-4
ILSAC GF-5
Download SDS Sheet
Download Information Sheet (PIS)