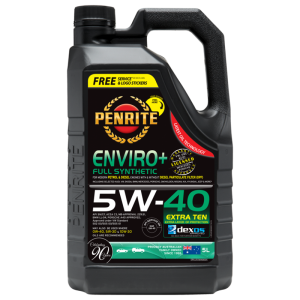 Penrite Enviro + 5W-40 (Full Synthetic)
ENVIRO+ 5W-40 is a premium full synthetic SAE 5W-40 Original Equipment Manufacturer (OEM), Fully Licensed and Warranty Approved engine oil. It uses the latest advances in mid SAPS (Sulphated Ash, Phosphorus and Sulphur)* additive technology.
| | |
| --- | --- |
| Viscosity | 5W-40 |
| Base oil | Full Synthetic |
| Fuel types | Petrol / Diesel, LPG |
| Benefits | API Licensed for quality assurance |
APPLICATION
ENVIRO+ 5W-40 is designed for use in modern 4, 6 & 8+ cylinder multi-cam, multi-valve (including VVT), naturally aspirated, supercharged & turbocharged petrol and diesel engines.
ENVIRO+ 5W-40 may be used where SAE 5W-30, SAE 10W-30, SAE 0W-40 and SAE 5W-40 grade oils are specified by the manufacturer. It can be used where API SN and previous API specifications SM (2004-10), SL (2001-04), SJ (1998-2001) are recommended and where ACEA A3/B3 and A3/B4 is recommended in model years prior to 2010. It can be used in modern petrol and light duty diesel engines where ACEA C3 or ACEA C2 is specified by the manufacturer and in LPG and diesel engines where API CF or earlier is required. It may also be used as a replacement for ILSAC GF-3, GF-4 and GF-5 grade oils and where ACEA A1/B1 (Obsolete) and ACEA A5/B5 fuel economy oils are required.
ENVIRO+ 5W-40 is suitable for use in a wide range of petrol and light duty diesel vehicles including those fitted with a Diesel Particulate Filter (DPF). It is approved for warranty service by Mercedes Benz to MB-Approval 229.51 and can be used in GM vehicles requiring GMW 16177 (dexos™ 2), Volkswagen vehicles where VW 502 00 / 505 00 / 505 01 is specified. It can also be used in Porsche vehicles where Porsche A40 is needed and in BMW where BMW Longlife-04 is required as well as in many other makes and models including - Alfa Romeo, Audi, BMW, Chrysler, Dodge, Fiat, Ford, Holden, Jeep, Lamborghini, Kia, Hyundai, Mercedes, Mini, Mitsubishi, Nissan, Opel, Peugeot, Porsche, Renault, SAAB, Skoda, SsangYong, Tata, Toyota, VW
BENEFITS
MANUFACTURER APPROVED product to maintain vehicle warranty & specifications
API Licensed for quality assurance
LATEST engine oil specification
MAXIMUM wear protection
MINIMUM sludge formation
REDUCED piston deposits
LONG DRAIN engine oil intervals
Excellent protection for emission control devices such as DPF's & Catalytic converters
Excellent resistance to viscosity and thermal breakdown even in extreme service
Superior cold engine start up performance, minimising friction and wear at start-up
Suitable for a wide range of Petrol & Diesel engines
MANUFACTURER'S (OEM) APPROVALS & INDUSTRY LICENSES
API LICENSED
MB-Approval 229.51
INDUSTRY & MANUFACTURER'S PERFORMANCE LEVELS
ACEA C3
API SL
API SM
API SN
API SN/CF
BMW LL-04
BMW Longlife-04
GMW 16177 (dexos™ 2)
MB 229.31
MB 229.51
Porsche A40
VW 502 00
VW 505 00
VW 505 01