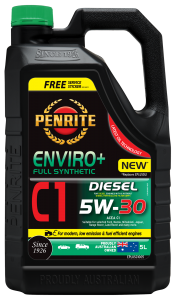 Penrite Enviro + C1 5W-30 (Full Synthetic)
ENVIRO+ C1 is a premium full synthetic, SAE 5W-30 engine oil. It is manufactured using the latest advances in low SAPS (Sulphated Ash, Phosphorus and Sulphur)* additive technology.
| | |
| --- | --- |
| Viscosity | 5W-30 |
| Base oil | Full Synthetic |
| Fuel types | Petrol / Diesel, Diesel |
| Benefits | premium full synthetic, SAE 5W-30 engine oil |
application
ENVIRO+ C1 is designed for use in modern 4, 6 & 8+ cylinder multi-cam, multi-valve (including VVT), naturally aspirated, supercharged & turbocharged low emission engines including those fitted with/without DPFs (Diesel Particulate Filters).
ENVIRO+ C1 may be used where SAE 0W-30, 5W-30 and 10W-30 grade oils are specified by the manufacturer. It can be used where ACEA C1 engine oils are specified and is also ideal for use in many Japanese light duty diesel engines including where JASO DL-1 oils are recommended. Applications include Ford, Jaguar, Land Rover, Mazda, Mitsubishi, Range Rover and many other makes and models.

VEHICLE AND FUEL TYPES


ENVIRO+ C1 is suitable for use in passenger cars, 4WDs & light commercial vehicles and can be used with Petrol / E10 & light duty diesel engines with / without a DPF. It is not recommended for use in motorcycles.
*Low SAPS oils may sometimes be referred to as Low Ash oils
ENVIRO+ C1 replaces ENVIRO+ DL-1 when used for JASO DL-1 applications
benefits
FULL SYNTHETIC high performance base oil and latest advanced additive technology
MAXIMISES DPF life and engine performance
SUPERIOR cold start protection
EXTENDS exhaust catalyst life
LONG drain intervals
EMISSION system friendly
MAXIMISES fuel economy**
**Fuel economy improvement of >2.9% compared to reference oil in the M111FE engine test
INDUSTRY & MANUFACTURER'S PERFORMANCE LEVELS
ACEA C1
Ford M2C934-B
Ford WSS-M2C934-B
JLR STJLR 03.5005