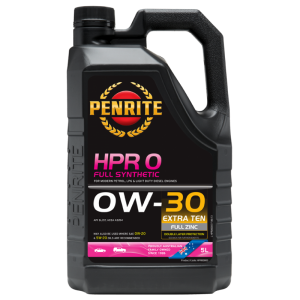 Penrite HPR 0 0W-30 (Full Synthetic)
HPR 0 is a premium, full synthetic SAE 0W-30 engine oil. It features a DOUBLE LAYER of engine wear protection with FULL ZINC and Penrite's advanced EXTRA TEN technology. It uses a combination of the latest additive technology and a low shear rate viscosity modifier, to ensure additional protection against wear, corrosion, oxidation, piston deposits and sludge under tough conditions.
HPR 0 is recommended for use in vehicles where SAE 0W-20, 5W-20 or 0W-30 low viscosity engine oils were originally recommended by the manufacturer.
| | |
| --- | --- |
| Viscosity | 0W-30 |
| Base oil | Full Synthetic |
| Fuel types | Petrol / Diesel, Diesel, Petrol, LPG |
| Benefits | FULL ZINC (approx. 1500 ppm levels) and Penrites advanced EXTRA TEN technology |
APPLICATION
HPR 0 is designed for use in modern 4, 6 & 8+ cylinder multi-cam, multi-valve (including VVT), naturally aspirated, supercharged & turbocharged engines, including petrol/electric hybrids. It is not suitable for use in Rotary engines.
HPR 0 can be used where the ILSAC GF-3/GF-4/GF-5, ACEA A1/B1 (obsolete) and A5/B5 fuel economy specifications are requested by the manufacturer. It is also suitable for use in many Diesel and LPG powered vehicles requiring an engine oil meeting ACEA B5 specifications.
HPR 0 is suitable in petrol/electric powered hybrids where this viscosity and specification are requested by the manufacturer. It is NOT recommended for use in diesels fitted with a DPF (Diesel Particulate Filter) that require an ACEA "C" grade Low-Mid SAPS (Sulphated Ash, Phosphorus & Sulphur) engine oil.
BENEFITS
EXTRA TEN provides an EXTRA LAYER of engine protection
FULL ZINC additive package for superior engine wear protection
GREATER protection than 0W-20 and 5W-20 grade oils
LESS oil consumption that 5W-20 oils
REDUCED high temperature engine deposits
MINIMISES sludge formation
Suitable for petrol/electric hybrids
REDUCES wear by controlling engine deposits
FAST FLOW start up protection
Suitable for both PETROL and DIESEL engin
INDUSTRY & MANUFACTURER'S PERFORMANCE LEVELS
ACEA A5/B5
API SL
Volvo 95200377


SUITABLE FOR USE WHERE SPECIFICATIONS BELOW ARE REQUIRED
ACEA A1/B1 (Obsolete)
ILSAC GF-3
ILSAC GF-4
ILSAC GF-5